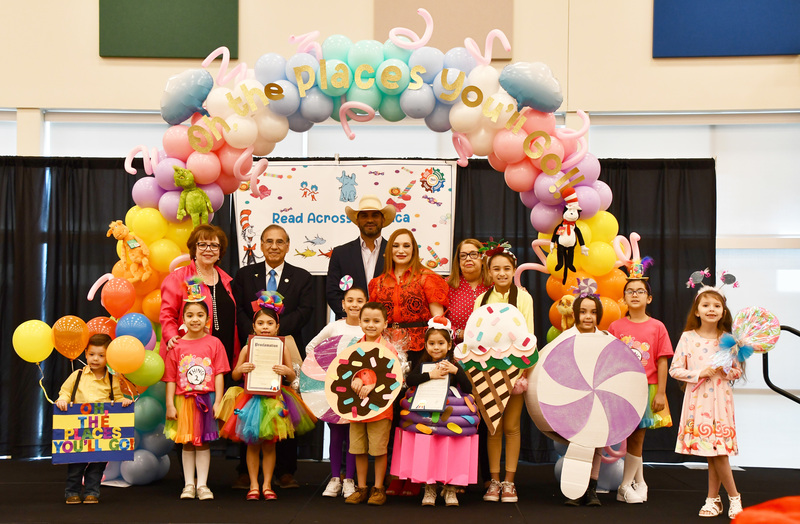 Laredo Independent School District is joining Read Across America Week celebrations across the country. Laredo Mayor Dr. Victor Treviño and Webb County Judge Tano Tijerina led a proclamation on Wednesday morning and encouraged students to read often and make reading a daily habit.
Launched in 1998 by the NEA, Read Across America Day was created as a way to encourage children to read in a more fun and interactive experience. It later developed into a year-round program, with special celebrations in March.
To commemorate the life of the beloved children's book author Theodor Seuss Geisel, otherwise known as Dr. Seuss, The National Education Association established March 2 as Read Across America Day. As an annual nationwide celebration of reading, thousands of schools participate by bringing together kids, teens, and books.
Mely Paez, Director for LISD's Library and Media Services, organized the event which included a recognition of the seven classes that placed first in the LISD Elementary Reading Fair. "We are so excited today because we are kicking off our Read Across America Week. Every year we join the National Education Association in promoting literacy and celebrating the great Dr. Seuss' birthday. We are leading the way for our students to be academically successful by instilling in them the love of Reading."
The LISD Reading Fair first place project winners included Milton Elementary School Cristina Contreras' pre-kinder class, Heights Elementary School Emma Cisneros' kinder class, D.D. Hachar Dora E. Garcia's first-grade class, and Heights Elementary School Victoria Perez's second-grade class.
D.D. Hachar Elementary School Ziomara Cisneros' third-grade class were named Primary Division Grand Champions while both Santo Niño Elementary School Gabriela Sanchez and Estela Ybañez's fourth-grade class and Heights Elementary School Erica Flores' fifth-grade class were named Intermediate Division Grand Champions.
LISD school activities for the week include: My Many Colored Days, wearing your grade level color; the Cat in the Hat Day, wearing a hat or striped attire; the Lorax Day, wearing orange attire and a mustache; Oh, The Places You'll Go, dress up as a future career; and Green Eggs and Ham Day, wear green and have green eggs and ham for breakfast provided by LISD's Child Nutrition Program.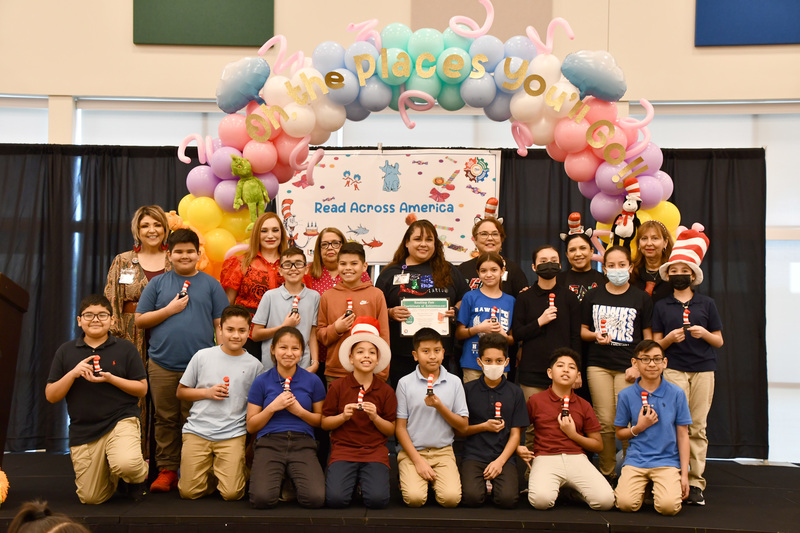 The 250 students in attendance, Pre-K through fifth grade, enjoyed a delightful reading from local children's author Gabriela Tijerina. Tijerina read her famous book "Abuela's Fideo: A Story of a Grandma's Love." Additionally to the week-long celebrations, students were treated to a puppet show played out by the Laredo Public Library.
According to the NEA website, Read Across America offers limitless opportunities for involvement in children's reading throughout the year. The year-round program can fit reading fun into your calendar daily, weekly, or monthly and includes big celebrations of reading in classrooms and libraries on March 2, Dr. Seuss' birthday, throughout National Reading Month in March and on September 8 for International Literacy Day.