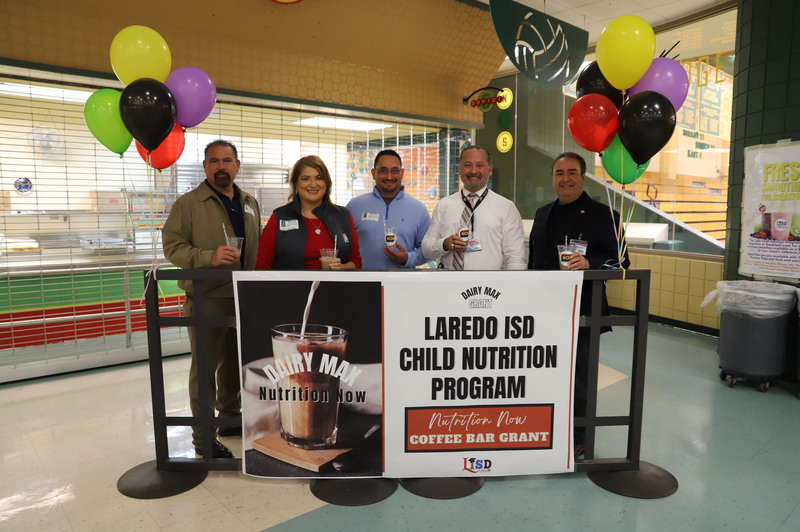 The Laredo ISD Child Nutrition Program has been awarded the Dairy MAX Nutrition NOW a Grant for Iced Coffee Bars at Martin, Nixon, Garcia ECHS, Cigarroa High Schools and the Vidal M. Treviño School of Communications and Fine Arts.
According to the Texas Department of Agriculture, the additional capabilities afforded by this grant will promote the consumption of nutritious foods in LISD schools and support the efforts of the district in creating healthy environments. While coffee itself provides caffeine, it also contains antioxidants and other chemicals that promote health according to research studies. This investment will reinforce the keys of healthy living – education, exercise, and eating right.
"We're excited that LISD is starting this program. I know it's going to increase participation which in turn helps the cafeteria department by getting more revenue, but most importantly, bringing in kids to eat breakfast because breakfast is such an important part of their day," said Wellness Consultant at DairyMax Lally Carbajal.
The addition of Coffee Bars at the high schools will help increase milk consumption, all while helping department staff control the nutrition of the coffee beverage student consumption – helping to limit added sugars.
The idea of serving iced coffee flavored drinks arose during one of the Secondary Menu Advisory Committee Meetings where students taste tested and rated several new menu items that will be considered for next year's school menu. During the year the students assist with evaluating food items, discuss cafeteria dining issues, advocate for their peers, and help plan menus.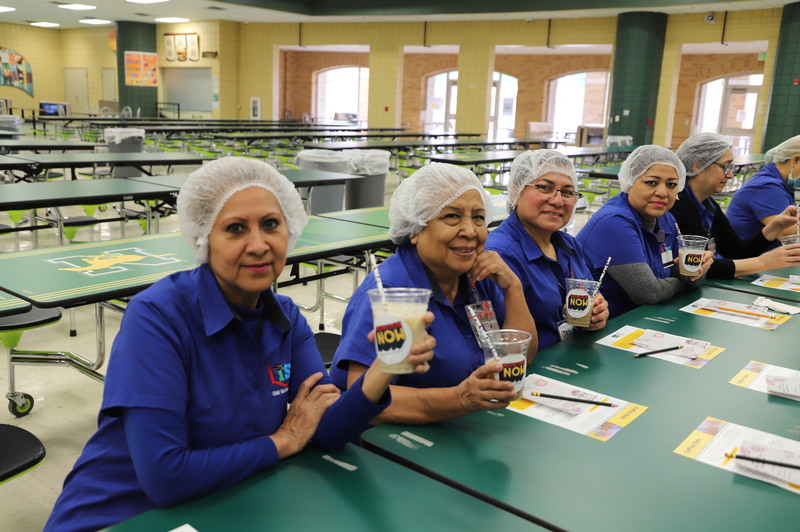 The result of that meeting led students to taste different coffee flavored drinks this past October, with the possibility of creating menu items during breakfast. "Students in the committee mentioned to me that there are Starbucks and Dunkin' Donuts and asked why we don't serve coffee as an alternative option yet. I thought it was a wonderful idea," LISD Child Nutrition Program Director Robert Cuellar said.
According to the DairyMax website, the U.S. Department of Agriculture Smart Snacks rules allow coffee and espresso, only in high schools and only if they meet the beverage calorie restrictions: 40 calories per 8-ounce serving or 60 calories per 12-ounce serving are allowed, and you need only count the calories from added ingredients – like small amounts of flavored syrups– not the calories from the low-fat or fat-free milk.
The Coffee Bars are completely free of charge to students. The new addition will consist of four ounces of coffee and eight ounces of white or chocolate milk. Students will have the opportunity to choose from vanilla or cinnamon flavoring. The expansion of flavors will progress over time.
"It's wonderful because at Laredo ISD we always lead with heart, inspire change, support growth, and expand our horizon in different ways. Our focus is on the students. Through nutrition and wellness, we're nourishing minds for a brighter future. Through these Coffee Bars and breakfast, they're able to be more alert and learn in school so they can one day be graduates and be future leaders of the world," said Cuellar.